"Mr. Kool" Has Been Released!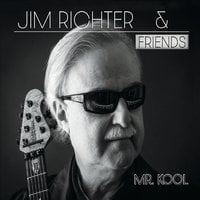 I'm very excited to announce that my new album, "Mr. Kool," has been released. It's an all-instrumental album of jazzy music. Michael Cornett produced it. Suffice it to say that the album wouldn't have turned out as well as it did without his help!
I played keyboards and guitar on "Mr. Kool." Chris Otts added some incredible sax parts on five of the tunes. I had help from three really great drummers: Jack Jones, Moses Mooney, and Brandon Williams. John Rathbone and Michael Cornett played bass on various songs. Bill Craig added some nice percussion parts as well. I can honestly say that this album is the best work I have done thus far. I really believe that you are going to enjoy the music!
Here's where you can buy the music:
Amazon: https://www.amazon.com/s?k=Jim+Richter+Mr.+Kool&i=digital-music&ref=nb_sb_noss
CD Baby: https://store.cdbaby.com/cd/jimrichter7
Here's where you can listen to the music:
Spotify: https://open.spotify.com/album/1gkxk0diBxNzEwqOwjiISl
Hearnow: https://jimrichter-mrkool.hearnow.com/